March 2, 2001 - March 4, 2001
Pavo, Georgia

(Rainbow title created by Bob Humphrey)

---
---
On March 1, 2001, about 32 members of POS met in Pavo, Georgia for the dual purpose of socializing and celebrating the lives of their sons and daughters who had died by suicide.

Initially, Bob and Lynda Humphreys (parents of Darren) were scheduled to attend as Guests of Honor - flying all the way over from England: A few days before they were scheduled to leave, Bob became seriously ill so they had to cancel the trip.

Even though it seemed like holding a wedding with no bride and groom, the retreat went on for the full week-end. Everyone set up memorial centers in the living room to share special items relating to their children. Most of the time was spent discussing memories, talking, and eating! (Angela tended to all the food - again.)

One special video was shown - sent by Walter and Annalie Stokes (parents of Wally) from Botswana. The group also got to eat a King Cake from New Orleans sent by Nancy, mom of Todd, in honor of Mardi Gras (with Carol P, mom of Barry, getting the gold baby inside). And everyone who attended was able to take home a candle in a butterfly shaped clay container (brought by Sharon & Bill, parents of Wendy) and a gold coin from Botswana (sent by Walter & Annalie).

In addition, Geri (mom of Daniel) and Iris (Mom of Danny) were featured on television reports when news reporters came to the retreat from Tallahassee, Florida and also Albany, Georgia. (CBS & NBC)

One big project was adding names and photos to the Butterfly Tree, and messages to the special message tree Carol P, mom of Barry, started.

At night, some of the members went to Thomasville to a motel to sleep, but many stayed in Pavo and slept in the upstairs 'dormitory.' It was sort of like having a big slumber party, not that anyone slept!

Saturday evening, there was a cookout, with Ronnie (aka The Boss) serving as chief cook and getting help from other fathers present.

The climax of the retreat, however, followed the cookout. Everyone assembled around a campfire (which was next to an angel statue) in the back yard under the tall pine trees, and Marge (mom of Mike's spirit) led the group in a Peace Fire Ceremony.

All present were invited to put messages to their children in the fire, and some were placed in for members not present. The spirit of love that passed through the hearts and souls of all present that night was incredible, in spite of the tears that flowed.

The internet has expanded the borders of our neighborhood. It no longer ends where our property lines end -- it is infinite, thanks to the world wide web.

For some, the retreat was the first chance they had ever had to meet other members of POS. For some, it was a chance to solidify old friendships. For all, it was a chance to see, hear, and hug people they had grown to know and love via POS.
The Group
All names will be listed from Left to Right.
On the left standing: Lloyd, Tom & Iris
On the left seated: Myra, Sharon T., Elaine D. & daughter Tricia
In front of the Butterfly tree on floor: Marge C., Patty J., and
Bill T.(Sharon T.'s husband)
In front of the Butterfly Tree on platform: Karyl B., Eileen V.,
Geri D., and Harry H.

On the right seated on the floor: Carol P.
On the right seated on the couch: Beth, Carmen & Jack C.
On the right seated on platform: Judy, Chris, and Jan J.
On the right standing: Jackie, Donna B., Bev C.(Lloyd's wife), Irene P. & daughter Amanda, and Alice
On the right Back row standing: Henry(Jackie's husband) and Ginny.
Not in picture: Ronnie(Karyl's husband)


What a group!!! At last years retreat 18 people were able to attend.
This year there were 30 people able to attend the retreat.

---
---
The POS Retreat 2001
T-Shirt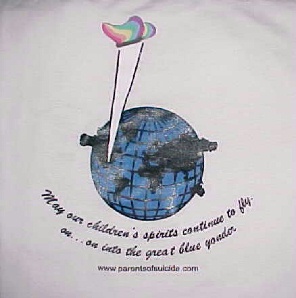 This is the back of the POS Retreat 2001 T-Shirt. On it is,

"May our Children's spirits continue to fly. On...On into the great blue yonder".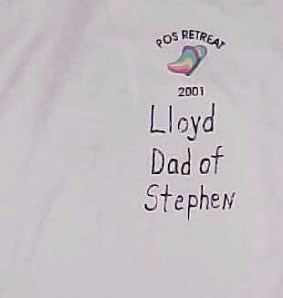 This is the front of the POS Retreat 2001 T-Shirt. On the front it says, "POS Retreat 2001" and in the center of that is our "Rainbow Butterfly". It also has the name of the parent, mom/dad of, and the child's name.
---
---
The Beautiful
"BUTTERFLY TREE"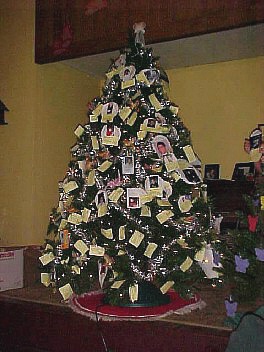 "What a beautiful way for our children to be remembered."

The "Butterfly Tree" is truly an awesome sight. However, when you see it in person it is a very emotional experience. There are around 300 names and around 100 pictures on the it. The Butterfly Tree has gotten to the point that a second tree is needed. I would also like to add that one of our members and her husband that attended the retreat, Sharon T. (Wendy's Mom) and her husband Bill, graciously brought with them the second tree and donated it to POS.

If you have never seen the Butterfly Tree and you ever get to Georigia, stop by Karyl's in Pavo and she'll be happy to show it to you, but, be prepared to shed a few tears.
Copyrighted ©: POS, May 2001